(SC Times) The Stearns County Sheriff's Office released an age-enhanced photograph Wednesday of Joshua Guimond, who has been missing since leaving a party on the St. John's University campus in November 2002.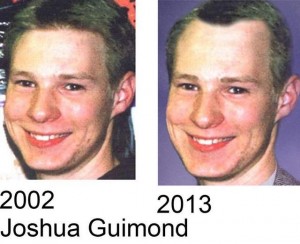 The sheriff's office has made all attempts to locate Guimond, and has had no success in finding him, the sheriff's office said. The age-enhanced photo was created by the state Bureau of Criminal Apprehension, at the request of the sheriff's office, in the hope that it will bring renewed awareness to Guimond's disappearance.
Anyone with any information about Guimond's disappearance or whereabouts is asked to call the Stearns County Sheriff's Office at 320-251-4240.